CEU Cosmetic Science Alumna Invades Europe
19 September 2023
In a world where beauty meets science, success stories often remain hidden behind the shimmering façade of products. As for Centro Escolar University Cosmetic Science alumna Irish Basera, it is her dedication and passion that have taken her talents to the vibrant heart of Europe.
The 30-year-old humble native from Occidental Mindoro did not plan on taking Cosmetic Science program in college. She initially pursued Nursing program, but during her sophomore year, she was diagnosed with dengue fever and was confined in the ICU for almost a month. After her recovery, her doctor told her to avoid exposure to risky environment such as hospitals. That's when she decided to explore other program options.
"I was drawn to Chemistry but wanted to remain at CEU. Fortunately, I discovered that CEU offers Bachelor of Science in Cosmetic Science. Initially hesitant due to misconceptions about the program focusing solely on makeup application, I was pleasantly surprised when I reviewed the curriculum. The subjects were predominantly science-oriented, sparking genuine enthusiasm within me," shared Irish.
As she delved into the program, she realized that being a nurse was not her true calling. She started yearning for a career that encompasses dressing up elegantly, engaging in client meetings, delivering presentations, and even embarking on business travels. Shifting to the Cosmetic Science program aligned perfectly with her aspirations.
For Irish, being a graduate of CEU's Cosmetic Science program provided her a significant edge, particularly when pursuing roles in research and development. The comprehensive curriculum with thoughtfully designed subjects enabled her to develop profound understanding of cosmetic formulation.
"Even as a fresh graduate and a newcomer at my initial workplace, the
knowledge I gained in CEU gave me confidence to engage with complex formulations. This foundation has proven instrumental in my ability to excel in my current professional journey," said Irish.
In 2018, Irish took part in the exchange student program in Daegu, South Korea, as well as in the international research conference in Thailand which was facilitated by CEU. For her, these experiences significantly enhanced her curriculum vitae. With the support of her professors Dr. LG Cruz, Dr. Zenaida Los Baños and Dr. Julieta Dungca, who is also the Dean of the School of Science and Technology, she was able able to participate in these special programs.
She also takes pride in being a part of well-known cosmetic companies such as VMV Hypoallergenics where she contributed to the development of multiple globally sold products, with the Skin Bloom Blush sticks standing as her personal pinnacle. These versatile sticks, available in nine shades, serve as hypoallergenic blush-ons, highlighters, bronzers, and even eyeshadows. After four years, she transitioned to Dermpharma as a Research Institute Supervisor. Two years later, she became a Research and Development Assistant Manager at Unilever. It was her relocation to Europe that caused her to part ways with her dream company.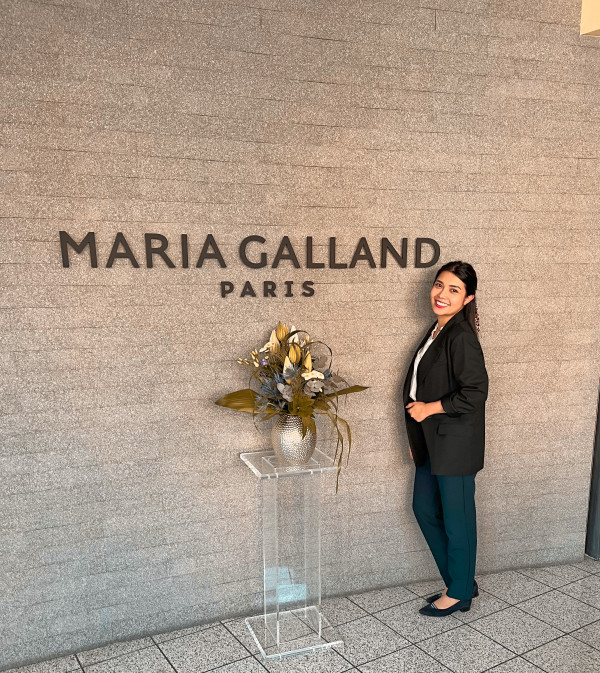 Now, Irish holds the esteemed role of Quality Manager at Maria Galland Paris, a luxury cosmetics entity in Europe. This position gives her the privilege to travel across various nations for critical meetings. At the same time, she is presently pursuing a Master's degree in Marketing in the University of Salford, United Kingdom.
"Along the journey, there will be individuals who won't support all your aspirations. However, if you hold your goals in your heart and mind, you will eventually attain it, so always dream big!," said Irish.
The captivating narrative of achievement of Irish is a true inspiration to all aspiring cosmetic scientists. The field of Cosmetic Science offers wide employment opportunities not just in the country but abroad. From formulating groundbreaking products to conducting cutting-edge research, this field offers a diverse range of career paths that allow graduates to make a meaningful difference in people's lives.
For more information about CEU, please visit the official website of the University at www.ceu.edu.ph. You may also follow CEU on Facebook at @theCEUofficial, @CEUMalolosofficial, @CEUMakati05; on Twitter at @CEUmanila, @CEU_makati05, and @CEUMalolos; on Instagram at @ceuofficial; on Youtube @CEUofficial; and on Spotify at EscolarYAN Podcast.