CEU Dean Joins Asia Pacific Webinar as Resource Speaker
10 July 2023
Centro Escolar University School of Education, Liberal Arts, Music and Social Work Dean and Education Program Head, Dr. Maria Rita Lucas was one of the resource persons in the Asia Pacific Webinar on Early Childhood and Climate Change.
Dr. Lucas shared that the University's participation in this event is through a micro research grant awarded to CEU's Education program. The study is titled "Climate change awareness, perspectives, and lived experiences: implications to ECCD program delivery". This is also in collaboration with Early Childhood Care and Development Council (Philippines).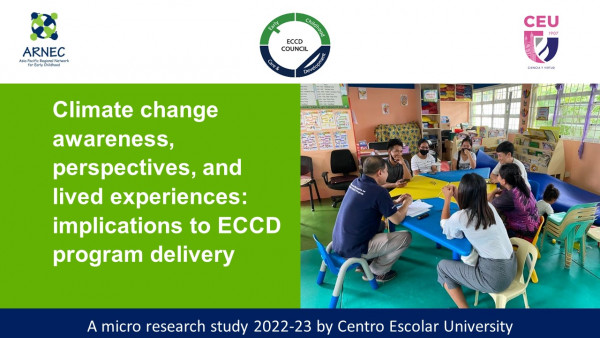 For more information about CEU, please visit the official website of the University at www.ceu.edu.ph. You may also follow CEU on Facebook at @theCEUofficial, @CEUMalolosofficial, @CEUMakati05; on Twitter at @CEUmanila, @CEU_makati05, and @CEUMalolos; on Instagram at @ceuofficial; on Youtube @CEUofficial; and on Spotify at EscolarYAN Podcast.