CEU Sportsfest 2023 Officially Kicks Off with Grand Opening Ceremony
14 March 2023
Let the games begin!
Centro Escolar University revived the school spirit through the Sportsfest Opening Ceremonies which brought together the Escolarian community as they filled the CEU North Quadrangle with thrill and excitement.

The crowd of CEU student athletes, faculty, and staff got hyped as they joined the parade along the Mendiola Street expressing their strong sense of pride in representing their respective Schools. Leading the parade is this year's host, the School of Dentistry, with Dr. Jim L. Fernandez, Assistant to the Dean, Students Affairs, School of Dentistry and Dr. Mary Iodine Lacanienta, Dean, School of Dentistry, and the members of the steering committee.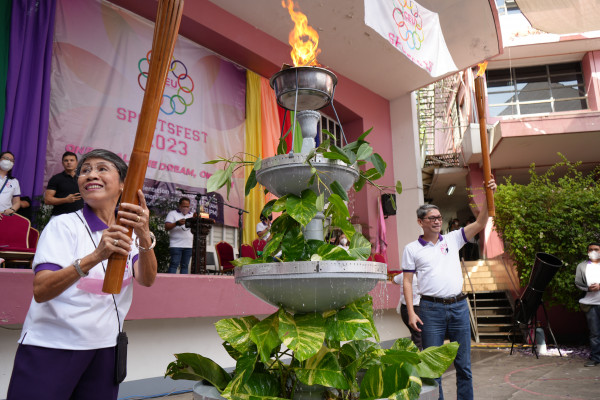 The ceremonial torch lighting signaled the declaration of the official opening of the CEU Sportsfest led by Dr. Ma. Cristina Padolina, CEU President and Chief Academic Officer with Mr. Jericho P. Orlina, Assistant Vice President for Business Affairs
Dr. Misagh Bahadoran, CEU School of Dentistry alumnus and former Azkal player got reminiscent in his message for the Escolarians, as he was once an active student athlete during his college days.
The annual event will not be complete without the much awaited parts of the program which are the Mr. and Ms. CEU Sportsfest and dance competition.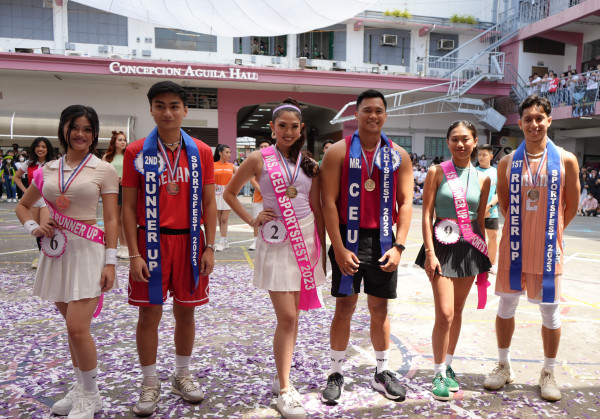 For the pageantry, School of Optometry's Kobe Gabriel Pajaro and School of Dentistry's Adrianna Diy were hailed title holders. Representatives from the School of Nursing and School of Education, Liberal Arts, Music and Social Work placed first and second respectively for the Mr. CEU Sportsfest. Muses in their sports attire from the School of Pharmacy and School of Nursing landed as 1st and 2nd runner-ups for the Ms. CEU Sportsfest.
The dancing prowess of the Escolarians were proved to be on another level with the performances from each Schools. With their emotional dance display, the School of Optometry finished as champion in the dance competition. The runners-up were as follows; School of Dentistry, School of Medical Technology, School of Pharmacy, and School of Accountancy and Management.
CEU alumnus and ex-Pinoy Big Brother housemate Zach Guerrero and celebrity guests like Binibining Pilipinas International 2021, Hannah Consencino Arnold, PPop Boy Group, Yes My Love and Teen Clash PH series cast also graced the occasion to witness and cheer for the athletes who will participate in the volleyball, basketball, table tennis, and e-sports tournament in the coming week.
For more information about CEU, please visit the official website of the University at www.ceu.edu.ph. You may also follow CEU on Facebook at @theCEUofficial, @CEUMalolosofficial, @CEUMakati05; on Twitter at @CEUmanila, @CEU_makati05, and @CEUMalolos; on Instagram at @ceuofficial; on Youtube @CEUofficial; and on Spotify at EscolarYAN Podcast.