CEU Accountancy Alumnus Chases Big Dreams Abroad
8 June 2022
Centro Escolar University Accountancy alumnus once said, "It is not enough to be intelligent and have a long list of accomplishments or titles in profession; you must also have character and a sense of purpose".
Miguel Navarro, Certified Public Accountant and a proud product of the CEU School of Accountancy and Management is the man behind these wise words.
No dates nor chocolates on February 14, 2022 for Miguel, but nothing could be special and sweeter than starting his new job as an Assurance Senior at Ernst & Young US LLP in Chicago on Valentine's Day.
"It feels euphoric to be embarking on a new adventure toward a better working world. I'm excited to explore this new potential, which I believe will transcend across borders, industries, and cultures," Miguel posted on his Facebook account.
Taking this new employment was never in Miguel's plan. But an unexpected opportunity came and so he applied for one of the open positions at EY Chicago. He underwent interviews to be assessed if he is qualified to practice Accounting in the United States. Having convinced the Partners of company of his being fit for the position, he received approval for the job.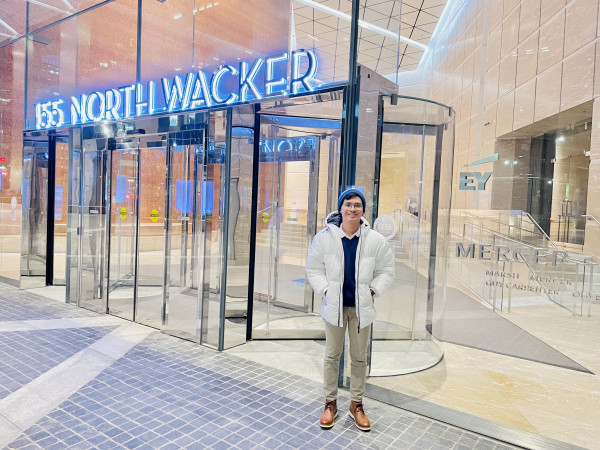 Miguel worked for SGV & Co. for over three years and since it is a member firm of the Ernst & Young Global Network, they have access to all EY's job offers around the world.
"I have audit and assurance experience working with listed companies in the mining, oil and gas, manufacturing, holding, power, and education industries. I could say that my time there (SGV & Co.) prepared me to be qualified for my current position," shared Miguel.
Miguel revealed that Accounting was not his first choice and only took this program because of his interest in Math, since he assumed that accounting is all about numbers, but turned out it isn't. He started just wanting to finish his degree and land a decent job to support his family. However, it was during his final years in college that he realized that one cannot become what one cannot see. So, from then on he imagined himself as a full-pledged CPA and worked hard to achieve it.
"CEU has provided me with the necessary technical knowledge and attributes to help me compete on a global scale. CEU also instilled in me values that guided and assisted me in both my personal and professional life. I also learned from CEU that it is not enough to succeed in my every endeavor. I must do so with the intention of inspiring and empowering others, creating an endless ripple of kindness that will lead to the creation of a better world," said Miguel.
Miguel graduated in 2018 with the degree in Bachelor of Science in Accountancy. He also served as student-leader at the School of Accountancy and Management University Student Council and Junior Philippine Institute of Accountants.
"What I learned from my experiences, and what I would say to all in-transit CPAs is stop putting things off until you feel more prepared or until the time is right, because there will never be a perfect time. Your ego will always find something else to focus on to keep you safe. Remember that the only thing standing in your way is you. Determine that you are prepared and that this is your time," relayed Miguel.
For more information about CEU, please visit the official website of the University at www.ceu.edu.ph. You may also follow CEU on Facebook at @theCEUofficial, @CEUMalolosofficial, @CEUMakati05; on Twitter at @CEUmanila, @CEU_makati05, and @CEUMalolos; and on Instagram at @ceuofficial.